| | |
| --- | --- |
| | Official Publication of the Jasper DeutscherVerein |
October 2001
German American Day Program
The Jasper DeutscherVerein, Sister Cities of Jasper, Inc., and The Jasper Partnership Commission sponsored a German American Day Program on Tuesday, October 2, 2001 at the Schnitzelbank Restaurant.
Vice President of the Jasper DeutscherVerein, Dan Gutgsell, welcomed all present and gave a brief history of the reason for the German American Day. He introduced Mayor William J. Schmitt who read the Proclamation recognizing October 6th as German-American Day in Jasper.
Matt Hilger, President of The Jasper Partnership Commission, presented the third annual Jasper German Heritage Award to Dave Buehler. Mr. Hilger noted that many of the activities that Dave has been involved in the past years have been as a result of his awareness and promotion of German American Heritage. He was instrumental in starting the Jasper Strassenfest in 1979 and the Jasper German Club shortly thereafter. He conceived the idea of the Riverwalk for Jasper based on what he had seen in Germany and then contributed more than one million dollars to its construction. Mr. Buehler is a strong believer in community involvement and in giving back to the community. He is the owner and CEO of Buehler Foods Inc.
Mr. Hilger also recognized the first two recipients of the German Heritage Award, Mary Jo Meuser and Claude and Martina Eckert.
Bob Dilger, President of Sister Cities of Jasper, Inc. introduced the guest speakers, Profs. Eberhard and Ruth Reichmann. Mr. Reichmann is a Professor Emeritus and former Director of the Institute of German Studies at Indiana University, Bloomington. Mrs. Reichmann is President of the Indiana German Heritage Society and Adjunct Assistant Professor and Director of the Max Kade German-American Center of IUPUI. They gave a very entertaining and informative presentation on German traditions that were practiced in Jasper in the 1800's and early 1900's. Many of the excerpts were taken from the Jasper newspapers and were written by historian Lillian Doane. They also talked about the many contributions made to America by Germans in all facets of life.
Vice President Gutgsell gave closing remarks and thanked everyone for their support of German American Day and for their interest in this important occasion. He also reminded DeutscherVerein members of the regular November meeting to be held on November 15 th and to watch the next newsletter for further details.

Dave Buehler accepts the third annual German Heritage Award during a ceremony at the Schnitzelbank on October 2, 2001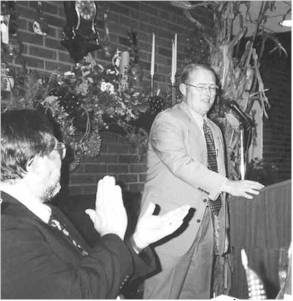 The official German American Day Proclamation is read by Mayor William J. Schmitt.
---
Upcoming Events – Mark Your Calendars!
November German Club Meeting
Date: Thursday, November 15, 2001
Time: 6:15 PM
Place: Jasper Outdoor Recreation (Lower Level)
Program:
6:15 PM Gathering
6:30 PM Meal
7:00 PM Strassenfest / Financial Reports
7:30 PM Auction
The club will provide meat/cheese trays, chips, pretzels, bread, beer and soft drinks. Members are asked to bring a salad, vegetable or dessert to complete the meal.
Everyone is strongly encouraged to bring an item or two for the evening's auction. Ideas include homemade wine, baked goods, crafts, antiques, etc. Be creative! Proceeds benefit the Jasper High School German Exchange Program.
Stammtisch
Date: Tuesday, November 27 th
Time: 7:00 PM
Place: Schnitzelbank Restaurant
---
Kaffee Klatsch
A planning meeting for future Kaffee Klatsch gatherings will be held at the Schnitzelbank Restaurant on November 6 th at 7:00 PM. We will be discussing ideas for future meetings and encourage all women in the club to attend. If you are interested but unable to attend the meeting, please contact Marie at 695-4004 or Kathy at 482-4386.
---
Patricia Keller Arrives In Jasper
Patricia Keller arrived in Jasper on September 26 th, 2001. She is our newest resident from Pfaffenweiler. Her host family, Dave and Janet Kluemper, met her at the Cincinnati Airport.
She is the daughter of Albert and Sonja Keller and has an older brother, Alexander. Her father is a member of the Gemeinderat in Pfaffenweiler and along with his wife owns a tax-consulting firm. Patricia and her father visited here in 1998 and were hosted by Urban and Ardella Wilmes.
Patricia graduated in July, 2001 from Angell Gymnasium in Freiburg.
It has been a dream of Patricia's to come to America to work in an American business to broaden her education. Jasper's partnership with Pfaffenweiler allowed for her dream to come true.
She is employed by the German American Bancorp on the Marketing and Training Team. Her duties include scanning information, updating information, and data processing within the bank.
Patricia likes animals and horse back riding.
She states that she likes how friendly Americans are and likes the area with the nice yards and gardens. The Kluempers, her host family, are "great".
She will be in Jasper until April, 2002. Upon returning to Germany, she will study Economics at a university and be part of a Work Study program for three years.
Patricia was made an honorary member of the German Club.
---
German Items for Sale
Two new German Club items are now available for sale - decks of playing cards and drink can " huggies". The cards have the Partnership/Sister City Logo ($5.00) and the huggies are black with DeutcscherVerein Jasper, Indiana in gold lettering ($2.00). To place your order, contact Patti Goepfrich at pmgoepf@fullnet.com or 482-4821.
Need a unique Christmas gift idea? How about purchasing some 2002 Jasper/ Pfaffenweiler calendars from the high school German students. They feature many beautiful pictures of both cities and the proceeds benefit the high school German program. The calendars can be purchased at the Chamber of Commerce, The Schnitzelbank Restaurant or by contacting Tara Deppert at 482-4108.
All items are also available for purchase at our monthly club meetings.
---
Erinnerst Du Dich?
By Patti Goepfrich
January 12, 1982 Die Deutscherverein Zeitung
Our next meeting will be " Donnerstag Abend". (Thursday evening, January 21 st at 7:30PM) at the Jasper VFW.
This will be a very important meeting to attend! It's election of officers time! So you can get in the "spirit" of welcoming in the new officers, the club is buying the first 16 gallons of beer!! (We need everyone's support, we have to drink all the beer.)
Our speaker for the evening will be Herr David Buehler who will speak on our German heritage. Herr Buehler spent weeks preparing for this presentation.
Achtung !! The next big party: Fastnacht!!! February 20, 1982 - Holiday Inn Convention Center will again feature a complete German menu und Gerbraten Huhnchen.
Entertainment will again be provided by everyone's favorite: Die Doppel Adler Musikanten. Tickets for dinner and dance will again be priced at Zehn Dollar (22DM). Tickets will be available at our next meeting.
This is the last dance before Lent, so come on out and drink up as many "evil spirits" as you can!!
There will not be a meeting in February and you will not be receiving a mailing.
If you haven't paid your 1982 dues yet, please send them in or pay at the meeting.
Following is the slate of officers nominated by the Nominating Committee:
President – Gary Egler Directors: Jim Corn
Vice President – Ron Kieffner Don Rasche
Secretary – Nancy Burton Mary Jane Roeder
Treasurer – Jan Hulsman Dan Wehr
Well folks, this is my last letter as president of the Jasper Deutscherverein. Being president of this club is an experience I will never forget. I want to sincerely thank all the officers, directors' wives and husbands, many hard-working club members and my frau, Linda, who helped make this new club a success. Viel Danke!!
My wife and I have met many new friends in the last two years and wouldn't trade the experience for anything. "Gut Gluck" to the new officers.
Auf Wiedersehn,
Dan Wehr, President
(Printed on Deutscherverein stationary – Found in Deutscherverein Records)
---
German Traditions
Thanksgiving
Thanksgiving in Germany differs from that in the United States where we tend to gather as a family, eat a huge meal and spend the next few hours in a stupor! In Germany the celebration truly reflects the origin of the occasion: the giving of thanks for a bountiful harvest. If anything, farming communities lead the way in a visible display of their thanks, with harvest crowns created from straw and ears of corn hanging from the front doors or as decoration in living rooms. And in all parts of the country, churches adorn their altars with harvest produce, much of it provided by the parishioners.
In cities and villages there are harvest dances and other happy communal activities. Food and drink is plentiful, and meals tend to be heartier as the colder days creep in. Most recipes incorporate plentiful harvest foods including venison and hare. Zwiebelkuchen (onion cake) is always popular throughout Germany, but comes into its own as an accompaniment to the new wine from the first pressings of the late summer grape harvest. Called Federweissen (feather wine), it is somewhat sour and cloudy white in color. Every wine region claims a yeasty dough ( Hefeteig) is essential, while others swear that the sour and creamy consistency of cottage cheese dough ( Quarkteig) compliments the rich topping of bacon and onions. For speed, many cooks have switched to prepared dough, but they use fresh toppings. In whatever form, Zwiebelkuchen is typically found on the Thanksgiving table.
All Saints Day and All Souls Day
These two holy days, celebrated on November 1 and 2 respectively, originated in the fourth century. At that time, prayers for all saints ( Allerheilegen) were offered up at Easter. In the year 835, Pope Gregor IV decreed that the date be changed to November 1. Two-hundred years later in the Benedictine monastery at Cluny, November 2 was proclaimed to be the day to pray for the souls of all the dead ( Allerseelen). Later still, following the Reformation, Martin Luther established a new day of prayer – disassociated from the Catholic days – which he called Totensonntag (Memorial Day) to be celebrated on the Sunday two weeks before Advent. His motivation was based on his disagreement with many of the superstitions practiced by the Catholics on these holy days – superstitions such as not slamming a door in case it would squash a soul, not leaving an empty pot on the stove so that if a soul was in the pan it would not be hurt, placing Armeseelenbrote (poor souls' bread) on graves for the nourishment of the souls. Even more unrealistic was the practice in some southern communities of saving the first Kirchweih Schmalznudel (special Kirchweih pastry) and then at Allerseelen it would be ceremoniously tossed into a fire to the chanted words: " Jetzt hat die arme Seele Ruh" ("now the poor soul is at peace").
Today, the strange customs of early Allerheilegen and Allerseelen days are no longer observed, although they have left their mark. At Allerseelen Catholics attend a church service before visiting the graves where they weed the family grave and then plant moss and cover the area with branches of conifers to give protection during the winter months. Lutherans follow this practice on Totensonntag. With both faiths, families gather at the graveyard, even if it necessitates long travel, bringing flowers for the grave.
---
Events of Interest
Friday, December 7- Sunday, December 9
Christkindl Market at the Athenaeum
Sunday, December 9
St. Nikolausfest at the Athenaeum
Thursday, December 20
German Club Meeting and Christmas Party
Jasper Country Club
---
Strassenfest Booth Chairperson(s) Needed
The German Club is seeking individual(s) to serve as chairperson(s) for the club's food booth at the Strassenfest. If interested, please contact Darren Patterson at 482-7484 or Dave and Nancy Precthel at 482-4758.
---
German Recipe of the Month
Apples in Morning Gown
For the dough:
5 oz. cottage cheese, uncreamed, unsalted (Quark in Germany)
6 T. milk
6 T. oil
6 T. sugar
1 package vanilla flavored sugar or 1 tsp. vanilla extract
1 pinch salt
2 ½ cups flour
4 tsp. baking powder
For the filling:
8 medium-sized apples
7 oz. raisins (1 1/3 cups )
2-3 T. confectioner's sugar
For glazing:
2 T. water
1 egg yolk
With a spoon, press cottage cheese through fine meshed sieve, mix with milk, oil, sugar, vanilla and salt. Mix flour and baking powder, mix half the flour with cottage cheese mixture, then add other half to obtain smooth dough. With rolling pin roll dough about 3/16" thick, cut into 6"-8" squares. Pare and core apples. Mix raisins with confectioner's sugar and fill apple cores. Place one apple on one square of dough, pull up dough corners crosswise and firmly press together. Mix water and yolk and brush on apples. Bake in oven 25 to 30 minutes at 375 degrees. They taste even sweeter with a glazing of confectioner's sugar and lemon juice.
The raisin filling can be varied at will, for instance with cranberry or apricot jam or even with honey. Or you can make the "gown" from yeast dough or a frozen piecrust. It's that easy!
---
Check out the new Web Site at www.jaspergermanclub.org
If you have any comments, questions or suggestions please contact Kurt Heise at heise@fullnet.com