Sister Cities of Jasper Photos
2019

Sister Cities of Jasper received the Indiana Sister Cities Award for Best Program 2019 for importing Pfaffenweiler wine. Pictured are (L to R) Jane Gehlhausen, Sandy Wehr, Mary Leah Siegel, Matthias Hilger, and Phil Boley.

New Logo Project and Contest held in 2019. Was a joint project between Sister Cities of Jasper and their sister city, Pfaffenweiler, Germany. Winner of contest was Tracey Lorey of Running Design Studio in Jasper.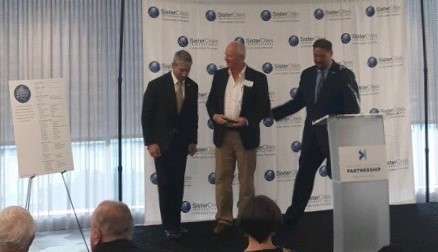 City of Jasper and Sister Cities of Jasper awarded Sister Cities International 2019 Innovation Award for Business and Trade for a city with a population less than 25,000. The project was the importing and distribution of wine from Pfaffenweiler, Germany.