November 2006
2006 German Heritage Award Winners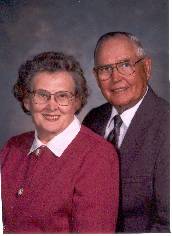 The late Lowell and Joan Glendening are the recipients of the 2006 German Heritage Award. The award is given annually by the Jasper Deutscher Verein, Sister Cities of Jasper, Inc. and the Jasper Partnership Commission to a couple or individual who has contributed in an outstanding way to preserving, maintaining, and building upon the community's German heritage.
In announcing the recipients of the award, Jasper Partnership Commission President, Matthias Hilger said "One of the first nominations we ever received for the German Heritage Award was written by Lowell. He was always eager to point out the accomplishments of others, refusing to take his own credit for the many things he did for our mission".
" Lowell's work beside his wife taught him a lot of knowledge about German last names and many German traditions, which he enjoyed sharing very much with anybody, be it at German Club meetings, Radio Shows, and during Museum or City tours. When we started a German speaking Stammtisch once a month, he was the one keeping many of us focused on speaking the language during those evenings, discussing more ideas of how we can promote and preserve our German heritage in Dubois County".
He cited Mr. Glendening as being president of the Jasper Deutscher Verein in 1985, serving for over twenty years on the Board of Directors of Sister Cities of Jasper, Inc., and giving advice and support for the JHS German Student Exchange Program.
Father John Boeglin noted that Mrs. Glendening was a walking library of local Dubois County German Genealogy.
"The Celestine community, with the help of a small committee, was able to write a book about Celestine history including the genealogy of its membership. We could not have published the sesquicentennial book without Joan's input and assistance".
Mrs. Glendening helped many local families to discover their ancestors through genealogy research and was intent on not forgetting those ancestors who contributed so much to Dubois County German Heritage. Mr. and Mrs. Glendening made several trips to Germany to learn more about Germany and German heritage.
Members of Mr. and Mrs. Glendening's family accepted the award in their memories.
Previous recipients of the award are Mary Jo Meuser, Claude and Martina Eckert, Dave Buehler, Linus and Sally Lechner, Joe and Irene C. Eckerle, Danny and Linda Wehr, and Leo and Lora Lou Eckerle.
Mr. and Mrs. Glendening were the parents of four sons and one daughter and had three grandchildren.
---
German-American Day Celebrated
The Jasper Deutscher Verein, Sister Cities of Jasper, Inc., and The Jasper Partnership Commission sponsored a German-American Day Program on Wednesday, October 11 th at the Schnitzelbank Restaurant in Jasper. Over 105 individuals celebrated the occasion.
Bob Dilger, president of the Jasper Deutscher Verein, welcomed all present and gave a brief history of the reason for the German-American Day. He introduced Mayor William J. Schmitt, who read the proclamation recognizing October 6 th as German American Day in Jasper.
Dan Gutgsell, president of Sister Cities of Jasper, Inc., introduced the essay winners of the German Heritage in Dubois County essay contest which was held in conjunction with German-American Day. This contest was open to all seniors in the four Dubois County high schools. There were five essay topics. The students chose one of the five topics. They were "What does German heritage mean to me?", "What can we, as the younger generation, do to help maintain and preserve our German heritage?", "Note local or family German names as they relate to the towns or villages that immigrants came from, the meaning of the family names, relationship to geographic location, occupation, etc.", "What was life like in our German ancestral homes in the mid 1800's and what prompted people from those villages to immigrate to America?", and "Write from the perspective of a traveler in the 1800's leaving Germany and traveling to the United States. What did you leave in Germany, describe the journey, and what did you find in the United States?" Over 60 entries were received.
The winner from Forest Park Junior Senior High School was Brittney Haas and her parents are Brad and Karen Haas. Kristina Borders was the winner from Jasper High School and her parents are Mark and Sandra Borders. The winner from Northeast Dubois High School was Kelli Lueken. Kelli is the daughter of Kevin and Kathy Lueken. Hannah Hendrix was the winner from Southridge High School. Hannah is the daughter of Larry and Rebecca Hendrix. Each student presented their essay as part of the program of the evening. Their teachers were also recognized.
Mr. Gutgsell also introduced Dr. Giles Hoyt, professor of German and Philanthropic studies at IUPUI and president of the Indiana German Heritage Society. Dr. Hoyt gave a presentation on "Diversity German Style: Germans of Indiana" and reviewed all the different kinds of Germans and German Cultures we have in Indiana. He was presented with a token of appreciation.
Matthias Hilger, president of The Jasper Partnership Commission, presented the 8 th annual German Heritage Award. This award is presented to an individual or group who has contributed generously of their time, talents, or resources in maintaining, improving, or building upon the German roots in Dubois County. Sister Cities of Jasper and the Jasper Partnership Commission created the award in 1999. The Jasper Deutscher Verein sponsored the award. This recognition is open to all people not just residents of the City of Jasper, who give what they can in order to make a difference. A nomination will recognize the work of those who generously support the German heritage. A committee, consisting of the presidents of the Jasper Deutscher Verein, Sister Cities of Jasper, Inc., and the Jasper Partnership Commission, judges the nominations and selects the winner. Mr. Hilger noted that there were many nominations this year of many deserving people and encouraged all present to continue to nominate persons who deserve the award.
The 2006 German Heritage Award was presented to the late Lowell and Joan Glendening. Hilger and Father John Boeglin noted the many areas that Mr. and Mrs. Glendening had been active in supporting the Jasper Deutscher Verein, Celestine's sister city of Wagshurst, Germany, the German language, and the study of Dubois County German Genealogy. They were a true example of people doing things behind the scenes and getting very little recognition. Members of Mr. and Mrs. Glendening's family accepted the award in their memories.
On behalf of the German American Bank, Sharon Burger, Branch Service Manager, and Jay Baker, Sr. Vice President, Retail Banking, then presented each essay winner with a $250 scholarship and certificate.
Mr. Dilger then thanked the German American Bank for their financial assistance of the essay contest and recognized Laura Knies, Retail Administration Support at GAB, for her help in organizing the contest. He also thanked Lois Kuntz and Patti Goepfrich for their help in organizing the evening's activities and thanked all for attending the dinner and supporting the German Heritage.
Sigrid Duelfer and Erika Schone, the teachers from Faust Gymnasium in Germany, were recognized along with students present from Faust Gymnasium in Germany. They were in Jasper as part of the JHS German Student Exchange Program.
The remainder of the evening was spent socializing.
---
Upcoming Events – Mark Your Calendars
November Deutscher Verein Meeting
Date:
Thursday, November 16, 2006
Time:
6:00 PM
Social Hour
6:30 PM
Appetizer and Dessert Buffet
7:00 PM
Club Meeting / Annual Auction for Student Exchange
Place:
VFW in Jasper
Members with last names beginning A-J are asked to bring a dessert and members with last names beginning with K-Z are asked to bring an appetizer or snack. The club will provide beer and soft drinks.
Dan Hoffman has graciously agreed to conduct our annual Auction of donated items with 100% of the proceeds donated to support the Jasper High School German Student Exchange program. Julie Newton, German teacher at JHS, will be on hand with several of her students to help in the Auction process. Everyone is encouraged to bring an item or two for this Auction. Please be generous!
Items donated in previous years have included baked goods, crafts, furniture, homemade wine, German items, and Holiday items. Be creative – the more variety and quantity of items we have in the Auction, the more funds will be raised to support the Exchange Program. Come prepared to have some fun and to bid!
December Deutscher Verein Meeting
The December meeting will be on Thursday, December 7 th, and will be our Annual Christmas Party. Please note that the Christmas Party will be at the VFW again this year.
The menu will include fried chicken, roast beef w/gravy, dressing, corn, green beans, cranberry salad, slaw, rolls, and assorted desserts. Cost will be $10 per person. Call Ruth Wibbels at 482-5403 or Bob Dilger at 482-9149 before December 1st to make your reservations for the Christmas Party. Reservations can also be made during the November meeting at the Sign-In table or via email to Ruth at wibbels@fullnet.com.
Performing Arts students from Jasper High School under the direction of Tina Luebbehusen and Stephanie Burns will be on hand for an uplifting program. The students work hard on their performance each year and are proud to show us their talents!
January Deutscher Verein Meeting
The January meeting will be on Thursday, January 18 th, at the VFW. As has become our custom, this meeting will be our annual beer and wine tasting/judging gathering. Members are encouraged to bring samples of their beer and wine making for the annual competition. Categories will be judged in Grape Wine, Non-Grape / Other Wines, and Beer.
See upcoming newsletters for more details!
---
Thanks For A Great Picnic
Congratulations to Matthias Hilger and his Committee for another Successful Family Picnic. Committee Members included Wolfgang Erhardt, Bob Fleck, Patti Goepfrich, Dan and Kathy Gutgsell, Jim and Louise Gutgsell, Jan Hulsman, LaVerne Kieffner, Linus Lechner, Pat and Kim Lottes, Scott and Kerstin Ortiz, Bob Steffe, Tom and Mary Beth Vogler, and John and Ruth Wibbels.
Clara Mae Braunecker, Martina Eckert, and Lois Kuntz were at the Greeting Table and Julie and Kevin Newton sold items benefiting the JHS German Student Exchange Program.
And, always a big thank you to Bob and Janice Sunderman for their efforts on the beer!!!!
---
September Meeting In Review
The German Club held their annual family picnic Saturday, September 16, 2007 at the Jasper Outdoor Recreation Club. 104 members and 3 guests were in attendance.
Father John Brosmer had mass before a delicious meal served by Matt Hilger and his crew of ribs & kraut with mashed potatoes and sausages. The membership brought in covered dishes.
In President Bob Dilger's absence, Vice-president, Virgil Gress welcomed the guests, thanked Matt Hilger and his crew for the special meal.
Rita Egler, club treasurer, gave a quick report on the Strassenfest. A more detailed report will be given later. In recognition for the numerous hours spent by Rita over the past 20 plus years, she was presented with a gift and a bouquet of flowers.
Attendance prizes were won by, Rosie Herbig, Dean Lininger, Jim Luegers, Duke Herbig, Lois Kuntz, and Larry Hopf. Special prizes went to Clara Mae Braunecker and Mary Ann Stetter.
The October meeting will be held October 11 at the Schnitzelbank for German-American Day.
Ruth Wibbels
Secretary
---
On The Road Again with Fr. John Boeglin
Fr. John is heading for a day trip to Madison, IN on Monday, November 27 th, for the Annual Christmas Tour. Cost is $69 per person. Itinerary is as follows
| | |
| --- | --- |
| 7:00am | Depart from Holy Family. Enjoy coffee & doughnuts while enroute to Madison. |
| 10:00am | Arrive in Madison at the Visitors Center . |
| 10:30am | Mass at Prince of Peace Catholic Church |
| 11:15 am | Lunch is included at Clifty Inn at Clifty Falls State Park . |
| 1:00pm | Tour Lanier Mansion(the 1844 Greek Revival home of James F.D. Lanier) and view the Madison video. |
| 2:15pm | 2006 Nights Before Christmas - Candlelight Tour of Homes For two weekends some of Madison's beautiful homes are open for guests to see them in their Christmas finery. We will visit the Davis Home and the Hendricks- Beall Home. |
| 3:00pm | Lanthier Winery Festival of Trees to enjoy wine tasting as a forest of trees towers over us. |
| 4:00pm | Depart from Madison |
| 4:45pm | Arrive in Downtown Louisville for a stop at 4 th Street Live! in downtown where you can choose from a variety of restaurants for dinner (on your own). Restaurants: Maker's Mark Bourbon House, The Pub, Hard Rock Café, Sully's Restaurant Saloon, Red Star Tavern, TGI Friday's, or your choice in the Food Court. |
| 6:30pm | Depart from Louisville |
| 8:00pm | Return to Jasper |
INCLUDED: Motorcoach Transportation, coffee & doughnuts, admissions to all attractions shown, related taxes & tips Times listed are CST (Jasper). Remember that Madison and Louisville are one hour ahead.
There will be 55 seats available. Call Holy Family Rectory for reservations at 482-3076.
Thanks to the German American Bank for being the financial sponsor for the German Heritage Essay Contest held in conjunction with the German American Day Dinner.
---
German Christmas at The Gasthof
"A German Christmas" with Eberhard and Ruth Reichmann will be held at the Gasthouf in Montgomery on Friday, November 10 th, and Saturday, November 11th at 7:00 pm each evening. The outstanding Crossroads Brass of Terre Haute will provide German Christmas music, the German Heritage dancers will demonstrate German fold dances, and Ed Reichmann will read Christmas stories from his book "Hoosier German Tales." The program will conclude with a sing-a-long, both in German and English, of favorites like "O Tannenbaum" (Oh Christmas Tree) "Stille Nacht" (Silent Night). Buffet dinner will be served from 5:00 pm - 8:00 pm each evening. Cost for the dinner is $15.99 including beverage. Children 5 – 10 - $8.99 including beverage. Children under 4 are free. Reservations can be made be calling Jocelyn Burger at 812-486-2600. Mark your calendars for a great way to begin the Christmas season with good food and great German music.
---

JHS German Exchange Information
The JHS German Exchange will have a booth again this year at the annual Ferdinand Christkindlmarkt. The Ferdinand Christkindlmarkt will take place on November 18 th and 19 th. Please stop by to see our array of baked goods for sale. We look forward to seeing you there, and thank you for your continued support of our program.
We are taking presale orders for Advent calendars. Cost is $3 each. Orders may be placed by calling Julie Newton at 482-6050.
---

Erika Schon and Sigid Duelfer, Teachers from Faust Gymnasium who accompanied 16 students from Germany as part of the JHS German Student Exchange Program. The group arrived 09-26 anddeparted 10-14.
---
Winning Essays in the German Heritage Essay Contest
Forest Park Junior-Senior High School
Brittney Haas
Parents: Brad and Karen Haas
Teacher: Leslie Shobe
In June of 2006, I was very fortunate to travel to Germany, Switzerland, and Austria. The red-roofed villages, Old World castles, and Swiss chalets were a visual paradise. As I reflect on my dream vacation, I am saddened by the plight of my German ancestors, and touched by their strength and determination.
During the late 1800's, much money was spent on the war effort and taxes continued to rise. The Industrial Revolution had forced my family's business to close as the home spinning wheels were replaced by the English cloth goods on the market at a lower price. Upon the death of my parents, the firstborn enjoyed priority to the inheritance; therefore, I was forced to seek my fortune elsewhere. Word had spread of a new country that offered freedom and a promise of happiness to anyone who was willing to make the long journey to the place where the roads are paved with gold. As most other emigrants at this time, I was an unmarried man who planned only seasonal work as an industrial worker and intended to return home.
The road to America proved to be hard. It tool months just to save up enough money to pay my ride out of Germany and a passport. Most of us were very poor and had to hitchhike or walk many of the long miles to the coast. Our ship contained about two or three thousand persons in a space hardly sufficient to accommodate 1,200. However, after about two weeks of pain and misfortune, the Statue of Liberty welcomed her newest arrivals complete with the dreams of great opportunity and great happiness. She was a beautiful sight, and a few hours after reaching the Statue we were rushed off the boat into a place called Ellis Island.
We were tagged by names and birthdays. Immigrants thought to have any disability or illnesses were marked with chalk. After we were processed and proclaimed citizens, many bought train tickets to their destinations. I chose to work in the city. We were made to work much harder, more dangerous jobs for minimum wage. Here, Germans were ridiculed and shot at by American people. Many laws affected Germans only. Children of German immigrants were embarrassed of their heritage.
"I came to America because I heard the streets were paved with gold. When I got here, I found out 3 things: first, the streets weren't paved with gold; second, they weren't paved at all; and third, I was expected to pave them!" exclaimed a fellow German while working.
A tour of Ellis Island in New York and the Holocaust Museum in Washington D.D. also proved to be significant in the study and understanding of my heritage. By visiting these connections to my past and studying the German language in high school for three years, I now have a true appreciation of my German beginnings. Thanks to the perseverance and strength of my ancestors, I enjoy the life originally promised to them in America.
Jasper High School
Kristina Borders
Parents: Mark and Sandra Borders
Teacher: Julie Newton
A World We Not Yet Know
The long sea-ridden trip deprived the family of the ability to walk normally after they departed the ship onto Ellis Island. The children were mildly entertained at the inconsistency of their set especially Cara, the youngest.
"Die Familie Bader," announced Hans Bader to the formidable looking customs officer as he arrived in America from Schwarzstein, Germany. The officer then dully leafed through a ledger full of name-filled papers. Herr Bader glanced behind him at his wife and five children. He smiled, reassuring them that everything was as it should be in this alien land.
"Yes, here we are," the officer announced. "Bader, Schwarzstein, Germany. Two adults: Hans and Anneliese Bader. Five children: Udo, Inge, Maren, Anna, and Cara. Please move on to the left," he continued, sounding bored. He pointed to the left realizing that the large family understood nothing of what he had said. Hans migrated his wife and children down the line where they discovered a strict man who examined them all over. They felt extremely uncomfortable as he searched through their hair, in the mouths, at their eyes, and all over their visible skin. They were admitted through and finally arrived at the end of the line. Hans received $20.00 to start the new life of him and his family.
They settled into a cheap apartment trying to adjust the best they could with the space. Anneliese peered out of the window at the New York skyline. She imagined the rolling hills of their old home in the Black Forest. She envisioned pine trees mixed with grape orchards scattered in patches throughout the landscape. She could see Udo herding the cattle down the hills to the good clover. Inge worked over the stream scrubbing the laundry upon the rocks. Maren came drifting from behind a hill with a yoke straddling her shoulders as buckets of water hung from them. The two youngest girls, Anna and Cara, played in the garden and enjoyed the last years of their innocent childhood before the lessons of life grabbed hold of them. Anneliese then found Hans marching down the forest path with pride as he held his latest kill.
"Mama, was essen wir?" Anneliese was snapped out of her reverie by her daughter, Maren. The children had not eaten since they came off of the boat. Anneliese found a $5 bill and ventured down the street to a market she recalled seeing.
The trip to America was less than perfect. It was full of sickness, monotonous food, and ill content. The menu consisted mostly of bread, salted pork, potatoes, and water. Hans was constantly sea sick and the children often had trouble getting to sleep. Anneliese remembered monitoring the children to a point of near obsession.
A new life had opened its arms to their family and the families of many others. It would be their choice to accept the offer.

German Heritage Essay Contest Winners
Kelli Lueken, Hannah Hendrix, Brittney Haas, and Kristina Borders with
German American Bank Representatives, Jay Baker,
Sharon Burger, and Laura Knies
Northeast Dubois High School
Kelli Lueken
Parents: Kevin and Kathy Lueken
Teacher: Tara Rasche
My German Heritage
To many people, the classic German is stubborn and drinks too much beer. Honestly, these were my first thoughts when I was contemplating what my German heritage means to me. Now that I have begun to think about it, I realize my German ancestry signifies so much more than what I see on the surface. My Germany heritage means I have the gift of determination, a hard-working mindset, and the ability to laugh.
There are no doubts my ancestors who came to American in the 1800's were determined. In 1864, my great-great grandparents arrived in the United States, not knowing a soul or how they would survive. Though the odds of success for immigrants in the U. S. were slim, they remained resolute and created a thriving new life for themselves in this new country. I am definitely strong-minded like my ancestors; if I want to accomplish a task, I will do everything in my power to obtain my goal.
Having a German background provides me with a diligent work ethic. From the stories my grandfather told me, German immigrants in the United States had to be hard-workers in order to survive. Most immigrants were only allowed tedious, menial jobs that barely covered the cost of living; instead of slacking off, they toiled in unsatisfactory conditions so their forthcoming generations could lead a better life. Other Germans performed labor on farms to secure their futures, which definitely required hard work. This hardworking approach to life has been passed down to me. I am not afraid to do a little extra work. Instead of finding shortcuts, I execute my tasks carefully and thoroughly to be positive that I have done a good job. I always try to do my best and give everything my all.
In addition to determination and hard work, Germans know how to laugh. Have you ever met a German who does not know how to have a good time? Humor was a vital element back when work took up most of the day. It made the workday go faster and the job itself a little easier. Laughter allowed the Germans to take a break from their troubled lives and experience delight with their family and friends, who were a very important part of their lives. My family and friends play a significant role in my life. Without them, I would probably go crazy. They help me relax and enjoy my time here on earth. I always experience laughter and have a good time when I am with my family and friends.
My German heritage is responsible for who I am today. The determination, perseverance, and sense of humor that my ancestors possessed have been passed on to me. The qualities that Germans are so well-known for are present in my life and the lives of my family. Everyday I see the effects of a German heritage in my community, and I realize that I am proud to call myself a German descendant.
Southridge High School
Hannah Hendrix
Parents: Larry and Rebecca Hendrix
Teacher: Jan Waninger
The year was 1810 and Baerbel was celebrating her eighteenth birthday. She was excited because she was to go to college in the fall. She was to become a nurse, but little did she know her Familie had a different plan for her. This is her story.
"Baerbel, please take your Bruder und Schwester to the market and buy five loaves of bread. Here are fuenf Mark that will be more than enough, so bring home the rest," her Mutter asked of her.
"Ja, meine Mutter."
Meanwhile, when Baerbel, Johann, und Hannelore were at the market place, their Eltern spoke of Baerbel's future. They were planning to send her to New York City in America because they could no longer provide for her and for her siblings.
When Baerbel and the rest returned, they found their Mutter in tears. Kurt, Baerbel's Vater, told her she would be leaving for America in the morning.
"Warum?" she asked.
"We no longer have the means to take care of you and your siblings. You will need to provide for yourself and the best place to do that is in America."
Her dreams were shattered along with her heart, but to be strong for her Familie, she never cried. She left for America at seven a.m., and she never saw her Familie after that.
When she arrived in America, she thanked God that she made it safely, because the ride was like none other. She and many others became very sick, some even died. She was unsure what to do next. Her family gave her no money or information, and she knew little English. But after walking endlessly, she found Deutschedorf von New York. It felt like home, but she was so homesick, she began to weep. After she pulled herself together, she found a little Café that was looking for help. They gave her the job and also let her stay in the apartment above it. She made it home for the next thirty hears. She fell in love with the milk boy, who delivered milk every morning. Soon they were married and had a baby girl. Baerbel named her little girl Hannelore Sigrid after her Schwester und Mutter.
Baerbel lived a life full of happiness and died at the age of seventy-eight. As Hannelore was going through her Mutter's belongings, she found a chest she had never seen before. It was filled with articles about Deutschland. She found a journal labeled "Tagebuch". She flipped through it and found an entry dated March 30, 1810, seven days after her departure from Germany. It read: "I do not blame my Familie for what they did. If not for them, I would not be the person I am. I am scared to death of this new country, but with God's help, I will be home one day, even if it's in Heaven."
---
Buergermeister Dieter Hahn
On Sunday September 24 th, the eligible voters of Pfaffenweiler went to the poll to make their selection for the next 'Buergermeister' (Mayor) of the 2,600 head wine growing community in the Snail Valley.
In the Pfaffenweiler newsletter 'S'Gmeiblaettle' (the community leaflet) current Buergermeister Fritz Gutgsell urged all voters to come to the poll the week prior the election.
He stressed, that it is everybody's responsibility to decide with 'your vote the important and future setting decision for Pfaffenweiler. Don't stand aside disinterested for such an important and undisputable decision for our amiable and vital community. A big turn out is evidence for the large interest of our citizens in the important communal politics of their community. It gives a newly elected official confidence, trust and motivation for such a responsible office in the Rathaus of Pfaffenweiler.'
Already a week prior to the election, during the only official public introduction of the six candidates to the community it was evidence, that voters of all ages in Jasper's Sister City were very much interested in the future of the community. The Batzenberghalle was set up with chairs only, and after they were all filled, people lined up along the walls three to four deep to participate in the introduction by listening and questioning the candidates.
Dieter Hahn, 'DiplomVerwaltungswirt' (Bachelor Degree in Science Administrative Management) won the election in the first go around with 81.58 percent of all votes. There are 2068 voters registered in Pfaffenweiler and 1,498 (72.68%) went to the poll on September 24 th.
Second with 112 votes was Hans-Peter Albrecht Sütterle, from Pfaffenweiler, followed by Robert Heiko Wendt also from Pfaffenweiler with 79 votes, Morena Schmitt from Pfaffenweiler, 35 votes, Alexander Beier from Duisburg with 19 votes and Franz Josef Feldmeyer living in Schliengen with 15 votes.
Dieter Hahn seemed to go into the election as the favorite, still the landslide win came as a surprise.
The high voter participation shows the importance the folks from Pfaffenweiler placed on the selection of their new Buergermeister.
Right after the lection results were announced, around 8pm on September, the Volunteer Fire Department of Pfaffenweiler set a Maypole for the new Buergermeister in front of the Pfaffenweiler Rathaus (City Hall). This tradition is very typical for Southern Germany. If Dieter Hahn would be living already in Pfaffenweiler they would have placed the maypole in front of his house.
(Election Results reported through the Pfaffenweiler Internet site and Franz Hilger in Pfaffenweiler)
---

Incoming Buergermeister Dieter Hahn and his Family and
Outgoing Buergermeister Fritz Gutgsell

---
Deutscher Verein Website Update
For the months of July, August, and September, the website had an average of 28,490 "hits" a month!!!
For the same period in 2005, the website had an average of 16,053 "hits" a month!!!
As you can see, the world is checking out the Jasper Deutscher Verein!!!!!
www.jaspergermanclub.org
---
Christmas at The Athenaeum

The Athenaeum in Indianapolis will host again a traditional German Holiday celebration the weekend of Dec. 1 to 3. A Christkindl Market,
offering old-world and other crafts and gifts, opens the festivities on Friday, Dec. 1st. Market hours Friday and Saturday are 5-9p.m., Sunday 1-5p.m.
On Sunday, Dec. 3rd the Athenaeum will be alive with festivities of the Annual Sankt Nikolaus Fest. Family activities begin at 1 p.m. with
gingerbread making, crafts, games, a puppet show and dancing. At 3p.m. the traditional Weihnachtsbaum
Zeremonie--the lighting of the Christmas tree with candles and group singing will take place in the Auditorium.
At 3:30 p.m. a fanfare announces the arrival of Sankt Nikolaus dressed in red and gold vestments, carrying a crozier. He is followed by Knecht
Ruprecht, in ragged, sooty clothes, who carries in his sack treats and switches. Nikolaus checks his Goldenes Buch (Golden Book) and calls the
children by name to account for their behavior through the year. Cost for the Sunday event: Adults $7.00, children under 13, $5.00.
Reservations a must! For info or to make reservations, call 317-630-4569 #1. Seating is limited on Sunday and children MUST be registered to participate.
---
---
A Very Special Christmas Celebration – December 10th
December 10, instead of the regular Wednesday Stammtisch, IGHS members, family and friends are invited to a Celebration of Eb and Ruth
Reichmann's 50th Wedding Anniversary and Eb Reichmann's 80 th birthday. Following the German Advent Service at Zion Evangelical Church we will
be celebrating 4:30 - 7:30 pm at the Athenaeum with Christmas foods and spiced and non-spiced drinks. Karl Kugler will be there with his
Zither and there will be Christmas tide events including Jim Gould presenting "The Story of the Rauschgoldengel: the Nuremberg Christmas
Angel" - a big hit at the National Christmas Convention. There will be a Christmas sing-along with Eb, and Giles Hoyt will be the MC. The only
presents Eb and Ruth wish for are speeches, short, funny or serious (but not too serious), presented that evening or given to them for a
scrap book, remembering the times they had with IGHS members and friends over the years, and some of the memorable things that happened.
Donations to the publication fund in honor of Eberhard and Ruth are also accepted. This is a perfect complement to the Sankt Nikolaus Fest,
which is held on December 3rd.
If you would like to send cards of congratulations, they can be sent to Eb and Ruth Reichman, 430 Kelp Grove Road, Nashville, IN 47448.
---
Potential New Club Members
If someone knows of a potential new club member and would like information about the Deutscher Verein forwarded, please contact Ruth Wibbels at 482-5403.
---
Erinnerst Du Dich?
From The Dubois County Daily Herald
Tuesday, January 18, 1955
HARK THE HERALD
The Rhine Falls, and Reute Again--- by A. T. Rumbach
The return trip from Liechtenstein to Reute was made over another route, similar in scenic wonders, skirting the northern boundary of Switzerland past the great lake of Constance (or Bodensee.)
At several places along the way we witnessed the annual autumn parade of cattle, mostly Brown Swiss, being driven down from the mountain tops and slopes where they had fed on the rich meadows since early spring. They were being transferred to their winter quarters in the villages down in the valleys. This is a festival occasion for the herders and villages, accompanied by song and dance.
The great German poet, Schiller, immortalized this simple ceremony in the opening scene of his drama "Wilhelm Tell", in the song of the herdsman coming down the mountain side with his herd:
"Ihr Matten lebr wohl,
Ihr Sonnigen Weiden!
Der Senne musz scheiden
Der Sommer is hin.
Wir gehen vom Berg;
Wir kommen wieder
Wenn der Kuckuckruft
Wenn erwachen die Lieder;
Wenn mit blumen die Erde
Sich kleidet neu;
Wenn die Bruenneiein flieszen
Im lieblichen mai."
I have taken the liberty to translate this freely:
"Ye meadows, farewell, ye sunny meadows,
The herdsman must leave you---
Sweet summer is gone!
We leave now the mountains;
We come back again
When the cuckoo calls,
When the song birds awaken.
When the earth garbs herself
With blossoms anew
When the brooklets flow freely,
In the lovely May."
The sun was riding low near the horizon when we arrived at Schaffhausen on the Swiss side of the Rhine. Herr Buehler suggested a rest stop, and he knew just where to go. He halted the buss at an inn with the tables in the open on a large plaza overlooking one of the finest views of the excursion – the great falls of the River Rhine.
We were enchanted by the tumbling waters dashing down over the falls and dashing against the huge boulders below, sending up clouds of fine spray which dissipated itself in the crisp autumn air. While waiting for service, we took our stand at a strategic spot where the rays of the setting sun were refracted in the fine spray of the falls, creating a beautiful rainbow. Virgil could not resist taking a movie shot at this natural phenomenon, in spite of the lateness of the hour, and was rewarded with one of the most interesting pictures of our entire trip.
A short distance from Schaffhausen, we were halted by the Swiss customs officials at the bridge over the Rhine, and again by the German officials on the other side. Passports were checked and we were questioned about tobacco, coffee and chocolate. One official looked inside the bus to survey our baggage, but seeing only overnight bags, (we were traveling light) he allowed us to proceed without further ado.
We were now back in our familiar Schwarzwald territory; and as darkness drew its curtain over the landscape we abandoned ourselves to the embrace of Morpheus, leaving Herr Buehler at the helm to conduct us safely back to old Reute. Starting the day early at Einsiedeln and cramming so much Alpine scenery, plus our eventful hours at Liechtenstein, this had been the most strenuous day since we landed at Rotterdam. But we really relished the "Abend-essen" which Oma Hettich set on the table soon after we were back "in der Heimat".
---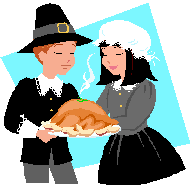 Kuerbisbrai Mit Kaese –
Pumpkin Mashed With Cheese
| | | | | |
| --- | --- | --- | --- | --- |
| 2 lb | Pumpkin | | 4 oz | Grated cheese |
| ½ oz | Ground Ginger | | 2 c | Salt water |
| 3 oz | Butter | | | Salt and Pepper |
| 4 oz | Sliced apples | | | |
Yield: 4 servings

Cut pumpkin in segments and remove peeling and seeds. Boil in salted water with ginger and apples for 20 minutes until soft. Pass pulp through a sieve and blend with butter. Season to taste. Place in a shallow dish, sprinkle grated cheese and brown under grill.
(taken from www.derdeutschemichel-online.de)
---
Jasper Deutscher Verein (German Club) German Heritage Endowment
A gift to the Jasper Deutscher Verein (German Club) German Heritage Endowment of the Dubois County Community Foundation is a wonderful way to remember that special someone. A gift in honor of someone or in memory of someone may be given. The Dubois County Community Foundation will send a letter of acknowledgment to the individual being honored or to the family of someone being remembered. Send your gift along with the appropriate information to the Dubois County Community Foundation, P. O. Box 269, Jasper, IN 47547-0269. Envelopes are also available at the greeting table at each club meeting.
Enclosed is my gift of $___________. Please direct my gift to the Jasper Deutscher Verein (German Club) German Heritage Endowment.
Name: _______________________________________
Address: _____________________________________
City/State/Zip: _________________________________
I want my gift to be in memory of/in honor of:
_____________________________________________
Please acknowledge gift:

Name: _______________________________________
Address:______________________________________
City/State/Zip:__________________________________
If you have any comments, questions or suggestions please contact Matthias Hilger or Patti Goepfrich.