25th Anniversary Celebration of the Pfaffenweiler - Jasper Sister City Partnership
June, 2009
Mayor Schmitt & Citizens of Jasper
I am really looking forward to my first visit to Jasper in a few weeks during the Strassenfest. It will be an honor to meet the Mayor and the citizens of our Sister City to bring our two communities closer.
On behalf of the citizens of Pfaffenweiler, its clubs and organizations and our City Council, I would like to take this opportunity to warmly invite Mayor Schmitt and the citizens of Jasper to an official Sister City Partnership visit next year.
Stone and wine have been characteristics of our community for centuries. Therefore we would like to use our traditional Steibick-Fescht (stone/quarry festival) as the right opportunity to celebrate the anniversary with you. The Steibick-Fescht takes place on Sunday, June 20, 2010. We will organize the celebration of the anniversary around that date.
I will be excited to welcome many Jasper citizens and Mayor Schmitt to Pfaffenweiler next year.
With kind regards,
Mayor Dieter Hahn
Note from the Partnership Commission: As details concerning this trip are finalized, they will be announced.

Strassenfest - 2009
Thursday, July 30 - Sunday, August 2nd
Enclosed please find the booth workers schedule for this year's Strassenfest, including the times for set up and teardown. If you are unable to work your designated shift, please find a replacement. If you would like to sign up for a work shift, please call Linda Wehr at 482-4432.
Remember to support the Strassenfest events sponsored by the Deutscher Verein.
Log Sawing Contest
Sheephead Tourney
Float with our guests from Pfaffenweiler
Proceeds from the sales at the Food Booth and Pastry Booth are the only source of revenue for the Deutscher Verein. Please support the Food Booth, the Pastry Booth, and the Souvenir Stand during the Strassenfest. The Souvenir Stand benefits the JHS Student Exchange Program.
19 Visitors from Pfaffenweiler will be visiting Jasper for the Strassenfest
On his first official visit to Jasper, Buergermeister Dieter Hahn will lead a delegation from Pfaffenweiler to the Jasper Strassenfest this year. The group of 19 will arrive in Jasper around 8:00pm on July 29th. They are Buergermeister Dieter and Angela Hahn and their 17 year old son Julian, Franz and Baerbel Hilger, Eddie Weeger, Heinrich and Gisela Hueppe, Bernd and Ingeborg Gehler, Amalie Schmid, Ingeborg (Schuble) Kiefer, Doris (Kiefer) and Janez Sori, Cornelia Muller-Hauss and Emil Ehrat, Markus Bosch, Michael Eckert, and Angelika Schenkel (Kiefer).
They will be involved in many official activities during their visit including the Strassenfest's Opening Ceremony and Parade, the Ribbon Cutting of the new Jasper City Mill, and an official Partnership meeting at City Hall.
An official community evening inviting everyone to meet the group is scheduled for Thursday, August 6th, at the Dubois County Museum. There will be a tour of the Museum at 6:00pm and dinner at 7:00pm. The guests will be treated to an "All-American" meal. Meal tickets are $10 and there will be a cash bar. Members are encouraged to attend to help give our visitors a great send-off. Reservations are required. Call Lois Kuntz at City Hall (482-4255) by Monday, August 6.
Their departure event will be on Friday, August 7th at 1:00 pm at St. Joseph's North Parking Lot. They will leave from there at 1:45 for the airport.
This visit will help refine next year's 25th Sister City anniversary celebration in June in Pfaffenweiler, which will take place around the weekend of June 20th, 2010 per the invitation by Buergermeister Dieter Hahn.
The Jasper Partnership Commission is scheduled to present more details over the next several weeks, especially on the WITZ Gary Lee Show on July 15th at 7am.
Mayor Bill Schmitt and Mayor Dieter Hahn will be guests of Gary Lee on WITZ on Tuesday, August 4th, at 7:00am and on WBDC at 9:00am.
Souvenir Booth Items
During the Strassenfest, JHS students and parents will have a Souvenir Booth benefiting the bi-annual JHS German Student Exchange Program. Items for sale include Strassenfest T-Shirts and Aprons, German Flags, German-American Desk Flag sets, plastic mugs, Pfaffenweiler post cards, Sister City stickers, Sister City lapel pins, German Prayer-Proverb-Remedy Book, cookbooks put together by local organizations, Mini-Flag Banners, Key Chains, German License Plates, DVD and Videos of Banished from Paradise, Beneath the Cherry Sapling - Legends from Franconia - Edited and Translated by Norbert Krapf and many other items. The booth will be open during the same hours of the other booths during the 2009 Jasper Strassenfest. The booth is located across from the Jasper Deutscher Verein Food Booth with their great Brat- and Knockwursts.
Wanted: Dirndl
Looking to buy a dirndl for the Strassenfest. Size should be Women's 18 or 1X. If you have one for sale, please contact Patti Goepfrich at 482-4821.
JASPER DEUTSCHERVEREIN
May Meeting
The Jasper Deutscher Verein met May 21, 2009 at the Dave Buehler River Walk Plaza where 112 members enjoyed a Bratwurst and Sauerkraut meal grilled by Al Astrike along with Mike Hochgesang, Ron Keusch, Dave Prechtel and Glen Schepers. The club provided chips and beverages while members provided ample appetizers and desserts to share. The Ray Majors Trio, consisting of Ray Majors, Woodrow Majors and Katlin Emmerz entertained during the meal.
The Welcoming committee consisted of Rita Egler, Patti Goepfrich, Judy Bennett, Margie Jeffries and Linda Wehr, who was also scheduling the workers for the Bratwurst stand and the Pastry stand for Strassenfest.
After the meal, President Al Bennett opened the short business meeting with the Pledge of Allegiance. He welcomed Dave Fritch as a new member. He thanked our guests, Jami and Heidi Fleming and special guests Mayor Bill Schmitt and his wife Carolyn for attending the meeting.
The possible trip to the Milwaukee German Fest was cancelled due to lack of interest and conflicting with Strassenfest. The possibility of a future trip with a better time was left open for later in 2009 or 2010.
The club presented the annual $1,000 scholarship to Amanda Hilger, daughter of Matt and Kathy Hilger. Amanda will continue her German studies next year at the University of Southern Indiana. Amanda was very much involved in the JHS German Club, serving as V.P. her junior year and as President in her Senior Year. She was very heavily involved in the German exchange program and has been to Germany on many occasions, since her father is a native of Pfaffenweiler. Bennett thanked Linda Wehr and Fred Hollinden of the Scholarship Committee for their time and deliberations.
Bennett announced that the board approved the purchase of a 40 foot trailer to haul and store both of the Strassenfest booths and their supplies. It is estimated that this will greatly reduce the time and effort for booth set-up and tear-down. Bennett thanked the committee of Dan Wehr, Mike Hochgesang and Rafe Ackerman for securing this used trailer. Special thanks were expressed to Rafe Ackerman for transporting the trailer back to Jasper from Evansville.
The board also approved an increase in the yearly dues in order to supplement the income from the Strassenfest. Starting with the 2009 year, the dues for a single person will be $10 and a couple will be $20.
Bennett gave an update on the Strassenfest:
The Clydesdales will be here for the Opening Ceremonies and the Parade.

We will be singing "Happy Birthday", in German, to our visitors from Pfaffenweiler after the tapping of the first keg in the

Beer

Garden

. There will be song sheets available and will need as many as possible to attend.

Our Pfaffenweiler guests will arrive on July 29, at approximately

8pm

, and will be welcomed with a Champagne Toast. On Saturday, Aug. 1, there will be a ribbon cutting ceremony, which will include them, at the new Eckert Mill. They will be on the German Club Float for the parade. A Farewell Dinner will be held at

6pm

on Thursday, August 6, at the

Dubois

County

Museum

.

Bennett encouraged everyone to wear their German attire during the Strassenfest.
The program for the evening was presented by Nathan Humbert, a 3rd year West Point Cadet. Nathan is the son of Gene and Donna Humbert. He spoke about life as a cadet at West Point and how his German heritage has influenced his life. Nathan earned the academy's German Proficiency Badge.
Attendance prizes were won by Mike Hochgesang, Aaron Rasche and Duke Herbig. Special prizes were won by Barbara Habig and Dan Wehr.
Bennett reminded everyone of upcoming meetings:
The annual German Club Family Picnic will be held Sept. 19, at the Jasper Outdoor Recreation. At

4pm

the doors will open, at

4:30

Mass will be held, and at

5:30

will be dinner.

German Heritage Day Celebration will be held Oct. 6 at the Schnitzelbank. Nominations are now being accepted.
Bennett concluded the meeting by thanking everyone who helped make this outdoor meeting a success. In addition to the grilling committee and the welcoming committee, the club thanked J.P. Stemly and Mike Oeding with the Jasper Street Dept. for making the Plaza look great. Thanks were also expressed to Fran and the VFW for the use of the tables, chairs and the food warmers.
After the meeting was concluded, the membership walked over to the Mill for a brief tour and recognition from ROJAC to the Jasper Deutscher Verein for the funding of the water wheel and terrace. A highlight of the evening was the revealing of the name for the terrace; "Wasserrad Terrasse", which translates to "Waterwheel Terrace". In addition to the tour, the train cars and the Old Barn were open for viewing. Many thanks to Dave Buehler, Ron Flick, Joe Rohleder, ROJAC and the City of Jasper for making these tours possible.
Submitted by Barb Schmitt, Secretary
Mayor Bill Schmitt and Dave Buehler thanking the members of the Deutscher Verein for the continued contributions of the Deutscher Verein to the Wasserrad Terrasse (Waterwheel Terrace). There will be a plaque noting of the contributions of the Deutscher Verein in the Jasper City Mill.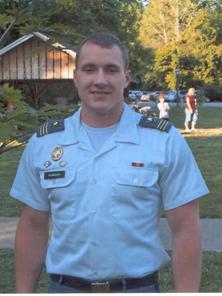 Nathan Humbert - Featured Speaker
at the May Meeting -
.
Upcoming Events
Family Picnic at the Jasper Outdoor Recreation Club - Saturday, September 19th
German Heritage Dinner at the Schnitzelbank - Tuesday, October 6th
A Thought from your Vice President
As President, Al Bennett and I settle in as your leaders for the next 2 years. It is important to have your support and input.
For me - our German Club's primary purpose is to promote sociably our countries German Heritage and to assist in bettering our community through lasting projects. Can we do this and have fun doing it? You bet we can.
It's so important to show the community how happy and proud we are to be a German Club Member. We can do this by joining in singing German songs loudly and with a spirited attitude.
We need to spend quality time on our singing at the meetings, truly learning them. Currently we fly through them and not expanding our song base. Why is singing together so important? To show those that are not current members that we are the place to be, the club to be a part of.
When our friends from Pfaffenweiler visit us, whenever we gather at the Schnitzelbank for German Heritage essay winner, anytime we are on the upcoming train rides, by the Mill, River Walk, anyplace and anytime we need to be prepared for celebration of songs together.
I look around at the meetings and want to see our future leaders. I see faithful, long time members and those that make the club go.
Singing is an expression of a happy mind and heart. It's a sign to those who watch us, that Hey - Maybe I want to be a part of that. Last month I wrote about the need to encourage young families with children to come to the meetings to share a meal and get involved. It's tough to do a lot while raising children, but let's at least get them signed up and to the club's picnics and gatherings.
We do not want the club to be an exclusive membership, but rather an inclusive club open to all. We need to have promotions and advertising pushing what we have to offer.
The plain and simple truth is - that the future is always now.
Yours for a Strong Singing German Club,
Birnie Jeffries
Vice President
2009 and 2010
Deutscher Verein Trailer
As we announced at our last meeting, our club has purchased a 40' trailer to house and transport our Strassenfest stands, supplies, equipment and other items.
We are projecting this new process will save at least half of the work involved in setting up and tearing down for the Strassenfest - and our equipment will stay clean.
Many people were involved in the process, but some particularly stand out. Rafe Ackerman for sourcing and finding a very good bargain; Mike Ackerman for picking it up in Evansville and bringing to their place in Jasper - and volunteering to store in their lockable lot all year and, of course, pulling to the location when needed, as well as pulling our float every year. Thanks to Rafe and Phyllis, who also painted trailer. Ackerman's, thank you!
Leo Eckerle and Ron Keusch for doing a bit of patching and building awesome shelving inside the trailer; it looks great!
Mike Hochgesang for taking time to go on our sourcing trip and helping me on the job of power washing inside and outside of the trailer.
And others who helped, Keith Bachman, Al Astrike, Ken Heim and Dave Prechtel - and if I missed anyone, I apologize.
Thanks to Raymie Eckerle for coming up with the initial idea. We tried to find a real low affordable furniture trailer but did not accomplish; but the one we came up with will serve us very well for many years. Again, Thanks!
Dan Wehr
Strassenfest T-Shirts Pre-Sale
Starting Wednesday, July 8th, the newly designed T-Shirts for the upcoming 2009 Jasper Strassenfest are available for purchase at the special pre-fest price of $8 each for Children, S, M, L, and XL. XXL will be $10 each on pre-sale.
Show your spirit of the festival by wearing one of the shirts. They are available at the Jasper City Hall, the Jasper Chamber of Commerce, the German American Bank Main Office, SOZO Cafe, and David's Hair Salon. (Strassenfest T-shirts (children, S, M, L, and XL) will be $10 during the Fest and XXL will be $12 during the Fest.)
With the sale of these T-Shirts, the Jasper German Club supports the Jasper High School German Exchange program.
Looking for Host Families
Pfaffenweiler Area Students at JHS
We are expecting more students from the Pfaffenweiler area to join our youth at the Jasper High School in the fall. Sina Ehrhardt from Ehrenkirchen is scheduled to come for twelve weeks starting 7/2/09 till 9/20/09. Her sister Aileen spent a full school year with us in Jasper two years ago.
Two 17 year old girls from the Staufen Gymnasium, Anna-Lisa Weber (Staufen) and Jana Ortlieb (Muenstertal), are scheduled for the entire school year. We are looking for host families for them. Anyone who wants to be a host family or knows someone who might be interested, please call Matthias Hilger at 661-0624.
Many of our JHS exchange students just met them while in Staufen in June and are excited to have them join their school for a year here in Jasper.
Deutscher Verein Float for the
Strassenfest Parade
The float has been reserved for the Pfaffenweiler visitors for the parade. Mike Ackerman will pull the Float with the Ackerman Oil Tractor. Any interested club members are invited to help clean the float at the warehouse near the Riverwalk on Tuesday, July 21st at 6 PM. Please call Raymie Eckerle, Float Chairman, at 482-2774 if you have any questions or want to volunteer your services.
Jasper Strassenfest Celebrates 31 Years
Opening ceremonies will be held on the main stage in the northeast corner of the courthouse square. The Dubois County Celebration Singers will begin singing patriotic songs from the north steps of the Dubois County Courthouse at 6:00PM, concluding with the National Anthem at approximately 6:20PM.
The Anheuser Busch Budweiser Clydesdales will kick-off opening ceremonies following the National Anthem with a parade lap beginning at the Old National Bank main office parking lot and proceeding west on 6th street around the courthouse square to the main state. The official Buergermeister proclamation and welcoming address will be delivered by Jasper Mayor Bill Schmitt. 2009 Jasper Strassenfest Chair Person, Bridgette Jarboe, will introduce the official Host and Hostess of the 2009 Strassenfest, Al and Judy Bennett, representing the Jasper Deutscher Verein. The 2009 Jasper Strassenfest Grand Marshall, Mr. Matthias Hilger, will also be introduced as well as the members of the 2009 Jasper Strassenfest Organizing Committee.
Following the initial introductions, Pfaffenweiler Mayor Dieter Hahn, will address the crowd and introduce the delegation of Pfaffenweiler residents attending this year's Strassenfest. Following the opening ceremonies, the Budweiser Clydesdales will escort members of the Deutscher Verein as they make their way to the Bier Garten for the official tapping of the first keg of beer, signifying the start of the four day long street festival celebration.
An exciting new event of the 2009 Jasper Strassenfest is an Indiana State Championship Barbecue contest, sanctioned by the Kansas City Barbecue Society.
JASPER GERMAN CLUB PICNIC 2009
On Saturday September 19th, 2009 we will have our annual German Club Picnic at the Jasper Outdoor Recreation to celebrate our families and the Deutscher Verein as well as saying thank you to the many people who put a lot of work into our social club throughout the year.
Doors will open at 4:00pm with Mass to be held at 4:30pm. Dinner will be served at 5:30pm.
This year we are going wild with our menu. A few member hunters agreed to supply us with mainly rabbit and deer meat and we will prepare in various ways. We are working closely with Wolfgang Ehrhardt to see what recipes he can come up with for us. More details to be announced in the next newsletter.
A few different fresh brews are being made by the Jasper Suds Club Beer. They are brewing a total of 30 gallons of beer, providing us with 10 gallons of Wheat beer, 10 gallons Koelsch, 5 gallons Porter and 5 gallons Oktoberfest. They are planning to use some of the hops that were harvested from Father John's house in at least one of these beers!
We had various discussions about a keg or bottles, but are leaning towards bottling it all again. That way, folks can just take bottles to the tables with them and we don't have to worry about foamy kegs. Bring your own Beer Steins. It tastes so much better versus out of a plastic cup.
Everyone is invited to the picnic. We will have Rita Egler and Danny Wehr give a report on this year's Strassenfest. Wear your outfits and show your German pride.
Special Invitation goes to the Strassenfest Committee, all Jasper High School German Exchange Students and their parents, the Jasper Suds Club and any of your friends.
We will have sign up sheets for the German Heritage Dinner to be held on Tuesday, October 6th, at the Schnitzelbank.
We will have many of the souvenirs from our Strassenfest Souvenir Booth for sale on hand as well.
This will be the last year Matthias Hilger will be organizing the picnic after ten years as being Picnic Chairman. We are looking for Matthias's replacement. Many details are already in place and Matthias is open to still be on the team down the road to help.
Remember to Sign Up For a Shift in either the Food Booth or Pastry Stand During the Strassenfest
We encourage everyone, who hasn't already signed up to work a shift at either of the food booths to please do so. Please call Linda Wehr at 482 - 4432 to request a shift time.
News from Norb Krapf
Indiana Poet Laureate
Norb will read from his new Sweet Sister Moon, celebrations of women, at the Dubois County Museum on Friday, July 31, at 6:30pm and sign books and will be back at the Museum the next day to sign books 10-12 and 1-3. Norb commissioned Ferdinand native Ashley Verkamp to create the cover art, which is gorgeous.
German Heritage Day Program
and German Heritage Award
The 11th annual German American Day Program will be held on Tuesday, October 6th, at the Schnitzelbank Restaurant. Social hour begins at 6:00 pm with the Program beginning at 6:30 pm. The eleventh annual German Heritage Award will be presented.
Past recipients of the German Heritage Award are Mary Jo Meuser, Claude and Martina Eckert, Dave Buehler, Linus and Sally Lechner, Joe and Irene C. Eckerle, Danny and Linda Wehr, Leo and Lora Lou Eckerle, the late Lowell and Joan Glendening, Dave and Janet Kluemper, and Rafe and Phyllis Ackerman.
The Nomination Form for the 2009 German Heritage Award is printed on the back of this newsletter. Please nominate someone whom you believe has given what they can in order to make a difference.
Maureen Braun will be our guest speaker.
The German American Bank will again sponsor an essay contest open to all seniors in the four county high schools.
More details of the German American Day Dinner and Program will be available after the Strassenfest.
Sister Cities of Jasper
Jasper Partnership Commission
Jasper Deutscher Verein
 GERMAN HERITAGE AWARD
"Honoring those who promote our German Heritage"
The annual German Heritage Award is presented to an individual or group who has contributed generously his/her or their time, talents or resources to maintaining, improving or building upon our German roots in Dubois County. Sister Cities of Jasper and the Jasper Partnership Commission created the award in 1999. The Jasper Deutscher Verein is sponsoring the award.
This recognition is open to all individuals, not just residents of the City of Jasper, who give what they can in order to make a difference.
Because the efforts of these individuals are sometimes known only to a few, a nomination will recognize the work of those who generously support our German Heritage.
A committee, consisting of the Presidents of the Jasper Deutscher Verein, Sister Cities of Jasper, and the Jasper Partnership Commission, will judge all nominations. The Presidents will present the German Heritage Award during the German American Day Dinner celebration on October 6th at the Schnitzelbank.
How you can nominate:
The nominee must be an individual or group, nominated by any individual or group. Please submit the official form (copy is accepted), along with the following:
1. A letter of up to one page listing your reasons for the nomination.
2. A biography, up to two pages, listing the service or efforts of the nominee.
3. Mail or deliver your nomination to: Jasper Deutscher Verein
German Heritage Award
P.O. Box 15
Jasper, IN 47547-0015
---
Ein Prosit, Ein Prosit, der Gemut-lich-keit, Ein Prosit
Ein Prosit, der Gemut-lich-keit, Eins Zwei, Drei...G'suffa
A toast, A toast, To happy times, A toast, A toast, To happy times, One, two three...drink up
Remember, the Strassenfest is our only fundraiser, please work a shift or two in our booths at the Strassenfest so we can continue the programs we enjoy throughout the year and keep our German Heritage alive.
Please remember to patronize the Food Booth and Pastry Stand!!! Why not treat your family for dinner on Thursday, Friday, or Saturday or lunch on Saturday.
You will find friendly faces in the booths to take your orders!!
Nomination for the 2009
German Heritage Award
Nominee's Name:
_________________________________________
Home Address:
_________________________________________
City:
_______________________State:_____________
ZIP:________________
Phone:_________________________________________
Occupation:
_________________________________________
Nominator's Name:
_________________________________________
Home Address:
_________________________________________
City: _______________________________State:_____
ZIP:__________
Relationship to nominee:
_________________________________________
Nominee's service is: voluntary / paid (circle one)
(Remember, nominations need to be postmarked to
German Heritage Award, P. O. Box 15, Jasper, IN 47547-0015,
by September 2, 2009)
Deutscher Verein

Officers:

Directors:

Al Bennett - President
ajbennett@insightbb.com

Birnie Jeffries - Vice President
greent2414@yahoo.com

Rita Egler - Treasurer
gregler@verizon.net

Barb Schmitt - Secretary
b.schmitt@insightbb.com

Die Zeitung

Editor: Patti Goepfrich
Phone: 482-4821
e-mail: pmgoep@fullnet.com

Deutscher Verein Website:
www.jaspergermanclub.org

Fr. John Boeglin
Dave Buehler
Bob Dilger
Raymie Eckerle
Patti Goepfrich
Virgil Gress
Dan Gutgsell
Jim Gutgsell
Matthias Hilger
Janet Kluemper
Linus Lechner
Danny Wehr