Upcoming Events
Family Picnic
September 18, 2022
Dave Buehler Plaza
Riverwalk
German American Day Dinner
October 6, 2022
Klub Haus 61
Annual Auction
November 16, 2022
Jasper Moose Lodge
Christmas Dinner/Dance
December 15, 2022
Jasper Moose Lodge
Vine to Wine Presentation
January 18, 2023
Jasper Moose Lodge
Strassenfest
August 3-6, 2023
Welcome to the Official web site of the Jasper German Club! Jasper is a city of 16,000 people and located in southern Indiana. Please take a few minutes to explore the site. There are some very interesting links associated with this site which will provide some wonderful information about the German-American Heritage in our community. Also, the site provides valuable information about all the events which may interest you.
Paul and Laura Grammer
2021 German Heritage Award Winners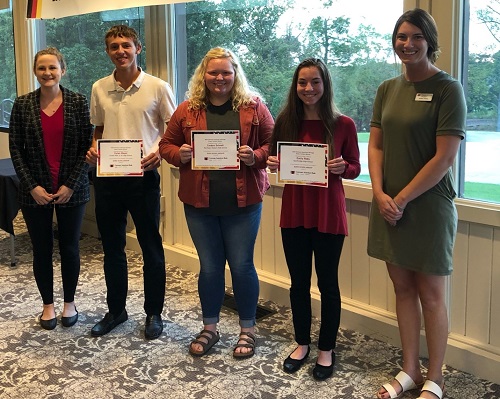 2021 German Heritage Essay Winners and Representatives of German American
L to R – Whitney Huff - GA, Dylan Weyer - Forest Park Jr./Sr. High School, Corbin Schnell - NE Dubois Jr./Sr. High School, Emily Roby - Southridge High School, Brittany Massey - GA. Not pictured is Maddie Wanninger - Jasper High School.
The DeutscherVerein Celebrates 40 Years!!!!
The Jasper Deutscher Verein was founded in January, 1980 to promote, preserve and celebrate our proud German Heritage in Jasper and surrounding area. The Club is intended to be primarily Social and Not-For-Profit.
The DeutscherVerein erected and maintains the Maypole located at the corner of 6th & Newton Streets, established a scholarship program open to seniors in the county high schools, and established the Jasper DeutscherVerein (German Club) German Heritage Endowment. The DeutscherVerein has also been a supporter of ROJAC.
We invite you to visit the City of Jasper, Jasper Indiana Chamber of Commerce, the Jasper Strassenfest and the Dubois County Visitors Center & Tourism Commission web sites along with the web site of our Sister City, Pfaffenweiler, Germany.
The Jasper DeutscherVerein and Sister Cities of Jasper, Inc. gratefully acknowledges the Dubois County Community Foundation, the Dubois County Tourism Commission, and Germany in US for their support of this web site.